Guiding Principle
"To deliver a first class education through partnership, innovation, school improvement and accountability."
The Guiding Principle is a phrase we deliberately use instead of 'Vision'. The intention behind this idea is that we want to not only see the principle in action, but also hear and feel it within the everyday activity of our schools. The decisions our staff make, the way in which they think and how they communicate continually echoes our principles. This attitude is encouraged at all levels throughout the Trust and is used as a barometer of quality.
Core Values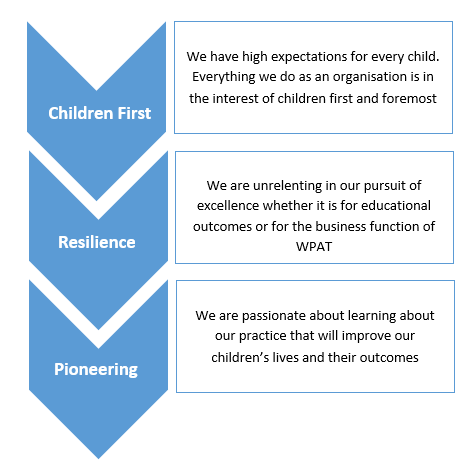 Our three core values are essential to the life of our school community. Here they are set in order, starting with Children First. This indicates that all our actions, behaviour and decisions can be driven by a mind-set that everyone within Warrington Primary Academy Trust is working to raise the prospects and achievements of our children. Resilience comes from our determination and Pioneering demonstrates that we are confident to try new approaches if the potential rewards will deliver benefits for all our children.

To read more about the business functions of WPAT, please read our Business Plan below.